By Korina Huizar -- UC Davis Mondavi Center Crit (1) -- 04/08/12
This year Rapha assembled it?s first ever Rapha Women?s Prestige, fashioned after the wildly popular Gentleman?s Race. The race is unsanctioned and unsupported--even the course is unannounced until the night before. Teams are by invite-only and must be comprised of 6 women that will both start and complete the race together. Friday evening Ashley Drum and I showed up at Rapha Club in the Marina, anxiously awaiting the details for Saturday?s race and to meet the other women who had bravely signed up for the challenge.


Picture by: Jason Perry

We rode on a composite team mixed of Metromint and Sorella Forte, whose riders were from Oregon. Though the challenge is held right here in our backyard we quickly learned that teams were assembled from all over the nation: girls were from Oregon, Washington, Quebec and Arizona. Distances were wide, geographically as well in cycling abilities, from recreational riders hoping to complete the distance to five time national champions looking to win. But unlike your traditional road race this race focused on the team aspect where all 6 riders had to come in together.

After meeting our other riders that night we all agreed that we were in this to finish, not to win, and wanted to enjoy the ride as a team. Gerben, the even race director, announced the course and gave one girl from each team a Garmin with the uploaded route.

The course:
115 miles, 9,209 ft of climbing, mixed terrain of road and dirt.

The race:
Saturday morning we arrived early at the Rapha club to fill up with coffee and meet with teammates before we started our adventure. They sent teams off in waves at five minute intervals and we were the third to go. We lined up behind the pink Rapha tape, the whistle went off and we were on our way!


Picture by: Jason Perry

We hopped on the Golden Gate Bridge and ventured our way into Sausalito, riding along the bike path (which would be one of the few flat sections of the day) and made a left after the trail to head over to Old Railroad Grade. Old Railroad Grade is just as it sounds, an old railroad section turned into a trail which is mainly compacted dirt and rock. As a newbie on dirt I was a little anxious about this section but after a few little bits of bobbling around I got into a grove and felt comfortable. We had to keep to the right since we were sharing the trail with your typical Saturday hikers and descending mountain bikers. As we were riding one mountain biker looked over at the group of us and claimed, ?there sure are a lot of you skinny tires out here today!? Then it happened, we all heard it, the sound of air leaving the tire. Ashley hit a rock and had a pinch flat no more than 15 miles into our ride. We changed the flat, took some pictures and were on our way. 3 1/2 miles later it happened again, another pinch flat yet this time as we were fixing her tire we were passed by three other teams. Luckily we saw that we were close to the top of the climb which meant we were close to hopping back onto the road. As we reached the top we were met by cheers from the Rapha Crew and other teams? follow vehicles. Those cheaters! Teams had somehow convinced someone to drive follow car stocked with pumps, tires, food, water, anything for the entire day, while our team carried it all on our backs. ( I think it would be harder to drive this course for 8 hours than to ride it for that long).




We began the famed ?Seven Sisters? from the top of Mt. Tam, heading north. I?ve only ever ridden these brutal rollers the opposite direction, and it was much faster and more fun going this way. We followed the sinuous roads across Alpine Dam, taking in some picturesque views while trying to maintain a brisk pace. Once in Fairfax we bought and shared a gallon of water, bought some extra tubes and headed towards White?s Hill on Sir Francis Drake.

The weather was absolutely perfect on Saturday, little wind, ideal temperature and not a cloud in the sky. Our out-of-state teammates thought we were spoiled to have such amazing riding in our backyard (and they?re right). Even though the course was long, we still managed to come across many other teams throughout the day. We had a few opportunities to chat with other riders while riding or at rest stops. Rapha?s team had an awesome group of composite riders and it was great meeting and riding with them.

Our route had us riding along Dixon Ridge through San Geronimo to Nicasio (famous cycling pit stop). This was another flat section but was really the calm before the storm. We were headed to Marshall Wall, whose namesake is well deserved, but first had a few smaller climbs to lead up to it. We meandered through Hick?s Valley, a beautiful landscape of rolling green hills and scattered farms. I?ve only ridden it twice but both times I loved it. The lack of cars and ample vistas make you appreciate being on the bike.

Strava was one of the sponsors for the race so they held Marshall Wall as a Strava ?Segment,? where the top three riders for the climb would win Strava memberships and bragging rights. Pro Mountain biker Lea Davidson won but I was happy to take 7th. We checked in with race directors at the top, filled up on water and descendedtowards Highway 1.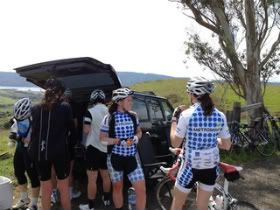 Highway 1 ended up being our greatest challenge and we had a hard time keeping the team all together. As the pace slowed, it allowed us a great opportunity to get to know our awesome teammates from Oregon; Stacy, Courtney, and Tonya. Two of the girls have taken part in the Rapha Gentleman?s race and were excited to sign up for another one of their epic challenges.




The race really is a challenge: from some it?s the distance, for others it?s the mental barrier of pushing on when things get really tough. Being on the saddle for almost eight hours takes you through points in which your legs feel awesome and then awful and then awesome again. The later miles were a challenge for me, with a continuous cycle of riding hard and stopping, and the second I hopped back onto the bike my quads would feel stiff and take a minute to warm up. The last few climbs of the day were out of Stinson Beach and were so beautiful that you didn?t care that you had already ridden over 100 miles. Plus at that point you?re so close to the finish that you?re excited no matter what. We collected our team at the top, descended into construction traffic and headed back home towards the Golden Gate Bridge. The bridge was probably the hardest part of the whole ride. With the West side being closed you can imagine what one open side of the bridge for both walkers and tourist bikers looks like on a saturday around 4 o?clock....madness. But two cyclists cheered, ?Great work girls, you?re almost there.? We rode together the last few miles, counting down street blocks to the finish. The ride was ridiculous. And hard. And awesome. And I can?t wait to do it again.

Funny to think we did this crazy ride simply for the love of this weird/addicting sport of cycling.